Home
Welcome to the SVACA Web site!
Sheyenne Valley Arts & Crafts Association is a non-profit organization based in Fort Ransom, North Dakota. Its purpose is to promote cultural activities in rural southeastern North Dakota; to provide instruction in the arts, craftsmanship and heritage arts; to preserve our arts and crafts heritage and to pass these traditions on to interested persons; to provide an opportunity for display of art works at festivals and at SVACA facilities; and to discover and preserve the history of Fort Ransom and Ransom County. The organization has been in existence since 1974.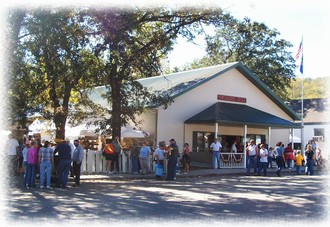 SORRY BUT WE ARE NO LONGER TAKING APPLICATIONS AS WE ARE FULL. We'd be happy to put you on a Wait List in event of cancellations.
2023 SVACA Marketplace Festival
NOW TAKING APPLICATIONS
(DEADLINE FOR APPLICATION MAY 1)
FOR EVERYONE'S CONVENIENCE, an ONLINE APPLICATION OPTION is available. To submit your Application, simply click on this link - OnLine Registration Form. Please complete all required fields, include photographs of products (along with descriptions), and submit payment with your application. The jury goes over all applications, and spaces are then assigned. You will be emailed soon after with the area assignment to confirm your acceptance in the show. If there is room available after the jury has met, late applications will be considered.
There is limited indoor space available, and vendors are chosen by space availability, public appeal and variety, as well as quality. We are working to keep this show one of artistic, vintage , upcycled, creative and home-made arts and crafts. Please help support us in this effort by giving us descriptions of HOW you make your products in addition to descriptions of what products you will bring to the show.
For questions, call SVACA at 701-973-4461 or send an email to svaca@drtel.net. As an alternative to the "OnLine Registration Form", vendors can also download, complete, print, and mail a Vendor Application Form by going here.
FOOD VENDORS:
We have limited electrical hook-ups and space for food vendors, so we can only select a few every year. If you are interested in being considered, please send these forms to us. Thank you! FOOD VENDOR ONLINE APPLICATION FORM
As an alternative to the "Food Vendor OnLine Application Form", vendors can also download, complete, print, and mail a Vendor Application Form by going here.