History of Sheyenne Valley Arts & Crafts Association
Anne and Bjarne Ness retired and moved to Fort Ransom in 1965, where they started the Bjarne Ness Art Gallery. It served as a home, meeting place, and Art and Craft Instruction Center. For the first three years these "Art, Crafts & Hobby" Shows were held in the Ness' back yard, as they opened their home and yard to area artists and craftsmen. After Bjarne's death in 1970, Anne was instrumental in forming the Sheyenne Valley Arts & Crafts Association( SVACA, Inc.), for the purpose of preserving Bjarne's work through the Bjarne Ness Gallery, to sponsor the annual Arts, Crafts & Hobby Festival, and to promote fine arts and crafts in rural North Dakota by conducting classes and seminars throughout the year. SVACA is a non-profit organization, and with yearly grants sp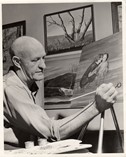 onsors art and education in the local schools, and helps support the Ransom County Museum. There is a Board of Directors that meets monthly to take care of the business of the corporation and to arrange for the yearly arts and crafts show.
Each year the Arts & Crafts show has attracted more exhibitors and more visitors.
SVACA is successful because of Bjarne's dream and Anne's dedication to the project that encouraged and directed the dedication to discover the world of art for everyone involved.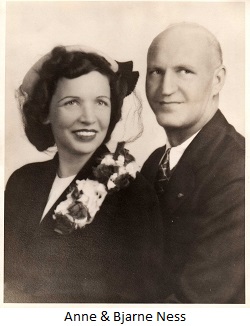 SORRY BUT WE ARE NO LONGER TAKING APPLICATIONS AS WE ARE FULL. We'd be happy to put you on a Wait List in event of cancellations.
2023 SVACA Marketplace Festival
NOW TAKING APPLICATIONS
(DEADLINE FOR APPLICATION MAY 1)
FOR EVERYONE'S CONVENIENCE, an ONLINE APPLICATION OPTION is available. To submit your Application, simply click on this link - OnLine Registration Form. Please complete all required fields, include photographs of products (along with descriptions), and submit payment with your application. The jury goes over all applications, and spaces are then assigned. You will be emailed soon after with the area assignment to confirm your acceptance in the show. If there is room available after the jury has met, late applications will be considered.
There is limited indoor space available, and vendors are chosen by space availability, public appeal and variety, as well as quality. We are working to keep this show one of artistic, vintage , upcycled, creative and home-made arts and crafts. Please help support us in this effort by giving us descriptions of HOW you make your products in addition to descriptions of what products you will bring to the show.
For questions, call SVACA at 701-973-4461 or send an email to svaca@drtel.net. As an alternative to the "OnLine Registration Form", vendors can also download, complete, print, and mail a Vendor Application Form by going here.
FOOD VENDORS:
We have limited electrical hook-ups and space for food vendors, so we can only select a few every year. If you are interested in being considered, please send these forms to us. Thank you! FOOD VENDOR ONLINE APPLICATION FORM
As an alternative to the "Food Vendor OnLine Application Form", vendors can also download, complete, print, and mail a Vendor Application Form by going here.